Description
Watch the Preview to see if this product is right for you…

Editable Lesson Planner  –  Level 5 Mathematics – Suitable For VICTORIAN SCHOOLS ONLY 
YOU MUST have ADOBE READER DC (FREE) on your computer to Edit, Save & Print  – Download here to get it for FREE
{Note there are NO Lesson Plans in this kit}
Digital Download –   Secured PDF – 70 pages – Editable* (No copy, cut, paste or extracting of the information in this document) *Editable on Laptops & PC. Read only on Tablets
This Editable Lesson Planner Kit has been created to help you plan, create, organise and align all your mathematics activities to the curriculum. You can track what you have taught by week & term and easily see what you need to teach next. Each Content descriptor is linked to the Achievement Standard and Proficiency Strands and has a hyper link to take you straight to the appropriate Lesson Planning Page so you can start aligning your favourite activities  & Pinterest finds to the curriculum. We have included 2 copies of each Content Descriptor so you can plan up to 10 activities if you need to.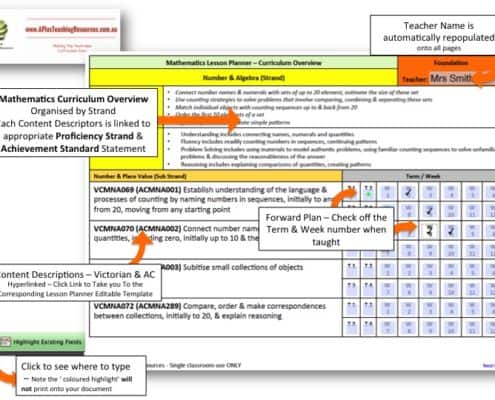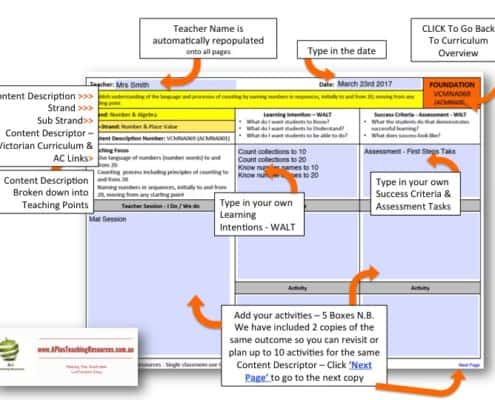 ---
This teaching resource and the intellectual property it contains has been developed by A+ Teaching Resources and is protected under copyright 2016. It may be printed & photocopied by the original purchaser for single classroom use only and may not be put on the internet, re-sold or re-distributed in any other form.Schools must purchase individual copies for individual teachers and MUST NOT share or load onto school shared drives without a Licence."© Australian Curriculum, Assessment and Reporting Authority (ACARA) 2010 to present, unless otherwise indicated. This material was downloaded from the Australian Curriculum website (Website) (accessed [2016]) and was not modified. The material is licensed under CC BY 4.0. Version updates are tracked on the Curriculum version history page of the Australian Curriculum website. ACARA does not endorse any product that uses the Australian Curriculum or make any representations as to the quality of such products. Any product that uses material published on this website should not be taken to be affiliated with ACARA or have the sponsorship or approval of ACARA. It is up to each person to make their own assessment of the product, taking into account matters including, but not limited to, the version number and the degree to which the materials align with the content descriptions (where relevant). Where there is a claim of alignment, it is important to check that the materials align with the content descriptions (endorsed by all education Ministers), not the elaborations (examples provided by ACARA)."
The A Plus Teacher has been a Primary School Numeracy Curriculum Leader and Coach for 16 years and now advisors A Plus Teaching Resources about Teaching Numeracy
The A+ Team is Passionate About helping educators to save time so that they can concentrate on the most important job in the world… Teaching! The Team Creates Time Saving, Tried & Tested, Hands-on, Teaching Resources, Ideas, Organisers, Checklists, Printables, Posters, & Games!
Visit the Website for Some FREE Teacher Worksheets & ideas! & Join our FACEBOOK Community