Description
Template For Your Classroom
This think board maths template is an awesome tool that can be used in so many ways. Using it will give students the opportunity to construct and OWN their understandings, in just about ANY concept! We love think boards so much we wanted to share this think board printable with you to use in your classroom. To save you time, we have put together ONE version of a maths think board and attached it as a FREE download for you! Just one condition… please share it with your Teacher friends!
Use this FREE think board template to help your students understand how to "Read, Write, Recognise, Model, Order Numbers and Solve & Work Mathematically" (ACARA)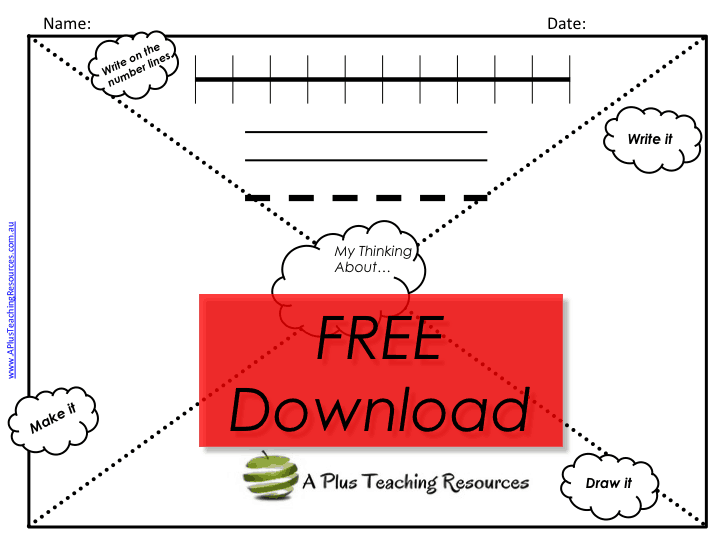 We made a black and white low ink version,  so you can use it in students books as a pre/post assessment activity and also a colour version that you can laminate & reuse for warm-ups. We've even put together an instruction sheet with examples of what to do in each section and we even included some of our favourite Pinterest ideas as well!
Click here to read more about how to use think board templates in your classroom… 
The A Plus Teacher has been a Primary School Numeracy Curriculum Leader and Coach for 16 years and now advisors A Plus Teaching Resources about Teaching Numeracy
The A+ Team is Passionate About helping educators to save time so that they can concentrate on the most important job in the world… Teaching! The Team Creates Time Saving, Tried & Tested, Hands-on, Teaching Resources, Ideas, Organisers, Checklists, Printables, Posters, & Games!
Visit the Website for Some FREE Teacher Worksheets & ideas! & Join our FACEBOOK Community