Teacher Hacks are the BEST! Genius ideas to save you time, effort & money in your classroom… So Good wish I'd  thought of them!

Here's a list of excellent ideas that you 'Must Do' they will make your Teacher Life run smoothly and help keep the work-life balance. Try them out to keep your classroom organised and stress free!
Genius Teacher Hack Ideas
We just LOVE shopping for our classrooms! "All The Things" make running a hectic classroom easier and us happier! Check out ourAmazon Must Haves for Teachers
 Egg Carton Hacks -Using this everyday item makes  math rotations fun and hands-on for preschoolers, kindergarten, foundation years and Year 1 kids. Make number recognition fun with these egg carton maths activities in a matter of minutes  using everyday objects, including, egg cartons, dice, counters and pompoms
Recipe Coloured Rice – Rainbow rice can be used for hundreds of activities including filling, pouring, measuring, matching colours, making music and art as well as random play for kids. Coloured rice isn't just nice to look at it is a great way to build sensory and fine motor skills. What's more it is so simple to make!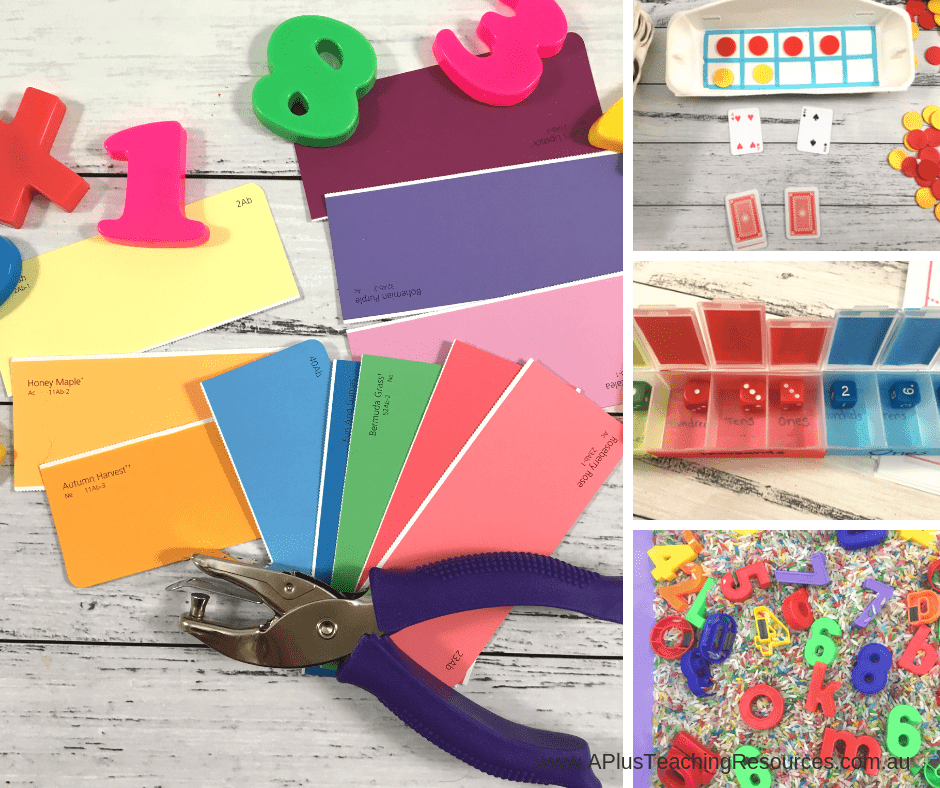 Paint Chips are so colourful and FREE… there are so many things you can do with them. Try our hole punch fine motor activities for teaching number recognition using involves paint chip cards from the DIY store and a hand held hole punch.
There's no doubt that there are so many great ideas on Pinterest, but you can literally waste days looking for hands-on activities that complement what you're teaching. Save yourself 'DAYS' and take a look at these Pinterest Boards By A Plus Teaching Resources
Our place value dice activity is an absolutely brilliant hack for teaching place value! It will completely change how you teach big numbers to your kids!